---
While organizations are taking steps to modernize content management and ensure that data is easily discoverable, it's still an overwhelming task to classify and govern a growing landscape of unstructured data and repositories.
You may already know that risks are lurking in your organization's dark data—but identifying, quantifying, and mitigating these risks requires a deeper look.
---
Our classification methodology enables an on-going assessment of vulnerabilities that may be hiding within your unstructured data. DryvIQ leverages artificial intelligence (A.I.) to classify content by discovering sensitive, high-risk, obsolete, and "dark" data. DryvIQ can then apply metadata, document classification, or other identifying tags and labels to this unstructured data.
With significantly higher accuracy rates and speed than legacy approaches, DryvIQ uses A.I. and advanced pattern matching to identify and classify the following data entities:
Document type (resume, W-2, invoice, etc.)

PII including names, ages, addresses, dates of birth, phone numbers, social security numbers, banking information, etc.

More than 5,000 standard government forms

Foreign language detection

Any custom data attributes unique to the needs of your business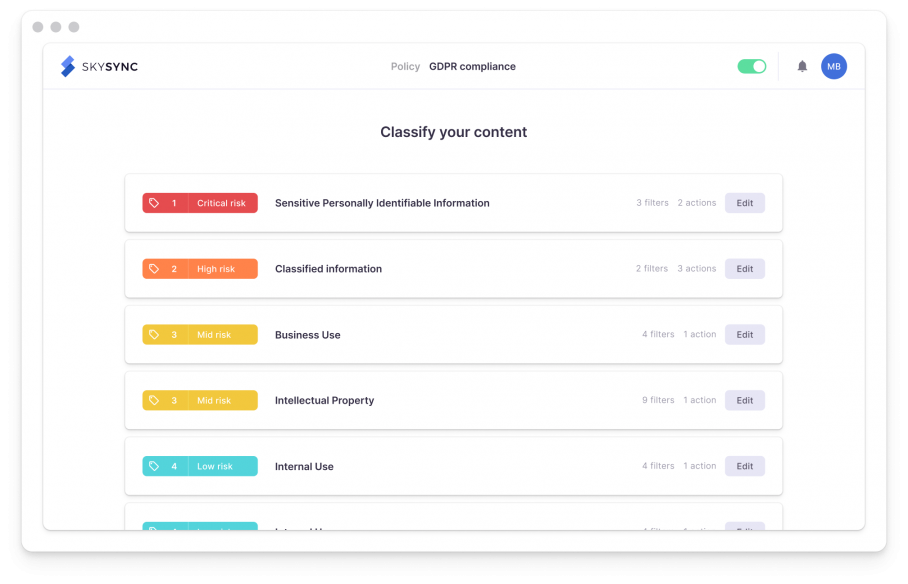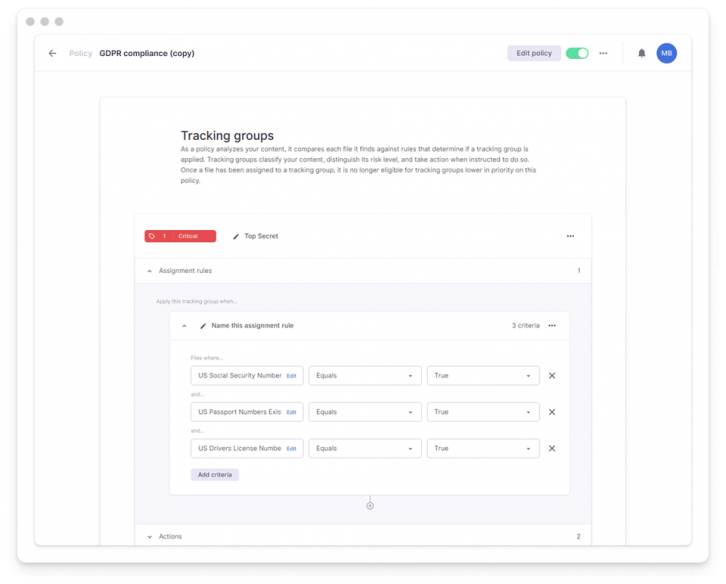 The classification engine will assign a rules-driven tracking label to every document in a repository. Comprehensive reports reveal sensitive and, more importantly, vulnerable data hiding in any storage repository on a continual basis. A series of automated actions can be applied to risk and mitigate vulnerability—such as assigning permissions, moving content, or other measures.
---
Enable your organization to discover, classify, and orchestrate enterprise content for specific scenarios, across all of your repositories—providing a holistic unstructured data solution for all relevant stakeholders within your organization.
Unstructured Data Classification
Documents may be sensitive and not properly protected and may be of high-business value but not easily located or identified. At times, organizations are not tracking or identifying the classification of individual documents.
The DryvIQ platform provides the ability to scan and discover unstructured files to properly identify the classification of the file – that could include resumes, invoices, W2, etc.
Helps to determine a proper governance strategy for the organization
Indicates file sensitivity which can drive additional protection and/or content disposition measures
Identifies business value which may be used to drive content reorganization in order to improve file discovery
Continuous Risk Assessment
PII, corporate trade secrets or other intellectual property may exist in unstructured data repositories without the knowledge of the organization. Sensitive documents may not be properly protected and, as such, represent a cost exposure risk to an organization.
The DryvIQ platform provides an analysis of unstructured content that delivers the identification of file sensitivity level, cost exposure, and overall risk criticality.
Both PII and corporate trade secrets can drive the identification of proper sensitivity labels for analyzed items
Sensitivity labels are identified and can also be applied to individual items via Microsoft Information Protection or Box Shield
Sensitivity labels can be leveraged to automatically drive content protection through permissions or data loss prevention policies
Unprotected sensitive items can be automatically acted upon — such as quarantine the file — to mitigate risk
For various reasons, end users may not apply the correct sensitivity label to a document. Even automated sensitivity labeling solutions need to be double-checked to ensure labeling accuracy. Dated content, or back file data may be missing sensitivity labels that need to be applied.
The DryvIQ platform enables organizations to validate the accuracy of file sensitivity labels while also identifying unlabeled content.
The sensitivity audit utilizes AI-based classification and sensitivity discovery components to identify the appropriate sensitivity label for documents
The sensitivity label generated by the SLA policy is then compared to the existing sensitivity label on each document to identify a match or mismatch
Mismatched or missing labels can either be identified in a report and the identified sensitivity label can be automatically applied to the document
Validating that the correct sensitivity label is applied ensures that the data loss prevention policy can operate effectively
IT Sensitivity Assessment
Across IT departments, user identities and passwords are often stored "in the clear" in connection strings or other text files for easy IT end user access. A variety of other scenarios also exist in relation to private keys, IP address, etc., leaving IT departments struggling to identify and protect sensitive assets.
The DryvIQ platform enables IT departments to identify sensitive and unprotected resources unique to technology and protect key IT resources within the organization.
Safeguard or eliminate the clear storage of sensitive User IDs and passwords
Facilitate the proper storage and protection of private key and private key files
Protect or eliminate the "honey pot" of IP addresses, MAC addresses, or IMEI numbers which may otherwise be prime targets for external cyber attack
Ensure that product license keys are properly protected and not misused by unauthorized staff
M&A Sensitivity Assessment
When one organization acquires an organization, they also acquire their data which may introduce risk, as acquired data may contain documents with PII or corporate trade secrets. Acquiring or merging the data from another organization may result in the data not being properly protected or migrated to the appropriate destination.
The DryvIQ platform enables the analysis of unknown content from an acquired organization to properly protect content that contains PII or other sensitive information.
Eliminate the risk of ingesting risky data from an acquired organization
Enables the acquiring organization to properly protect content that contains PII or other sensitive information
Ensures that ingested content is properly protected, governed, and organized for optimal business utilization
Divestiture Data Analysis
When a sub-organization is sold to an acquiring entity, the acquiring entity is generally entitled to receive any content related to the acquired organization. It can be difficult to separate content that references the acquired organization from other content in the source organization, and the content from the acquired organization must be sequestered for easy delivery to the acquiring entity.
The SySync platform enables the rapid analysis of content in order to identify a subset of documents that are relevant to a specific sub-organization that is being divested.
Divesture data analysis policies can accurately identify the content that references the sub-organization — acquired organization
This policy provides a comprehensive report on the content that is affected by the divestiture
The policy can be configured to automatically move (or copy) the divestiture data to a specific location so that it may be provided by the acquiring organization
"Enterprises are sitting on mountains of unstructured data, putting them under intense pressure to manage and make the data readily available… It's a significant problem that's not going away."