04.25.2022
The DryvIQ Platform Overview
DryvIQ provides a platform and suite of products that employ modern advances in artificial intelligence and machine learning technologies to seamlessly unify three core dimensions of enterprise data management, providing a single platform to discover, migrate and govern unstructured data across all connected content systems.
DryvIQ empowers organizations to identify, organize, analyze, and safeguard their enterprise content by providing a holistic platform that enables the automated remediation and orchestration of content across information silos to support regulatory compliance, enhance business productivity, and mitigate corporate risk.
DryvIQ Platform Performance Infographic
Since our earliest enterprise file migration days, we have understood the need for speed and scale. The DryvIQ Platform, at its core, was developed to discover and accurately classify petabytes of content at a pace unmatched by the current market of enterprise data management solutions.
As a baseline, the DryvIQ Platform is capable of an advanced pattern-based policy scan of 8GB per hour – besting established competitors by eight times.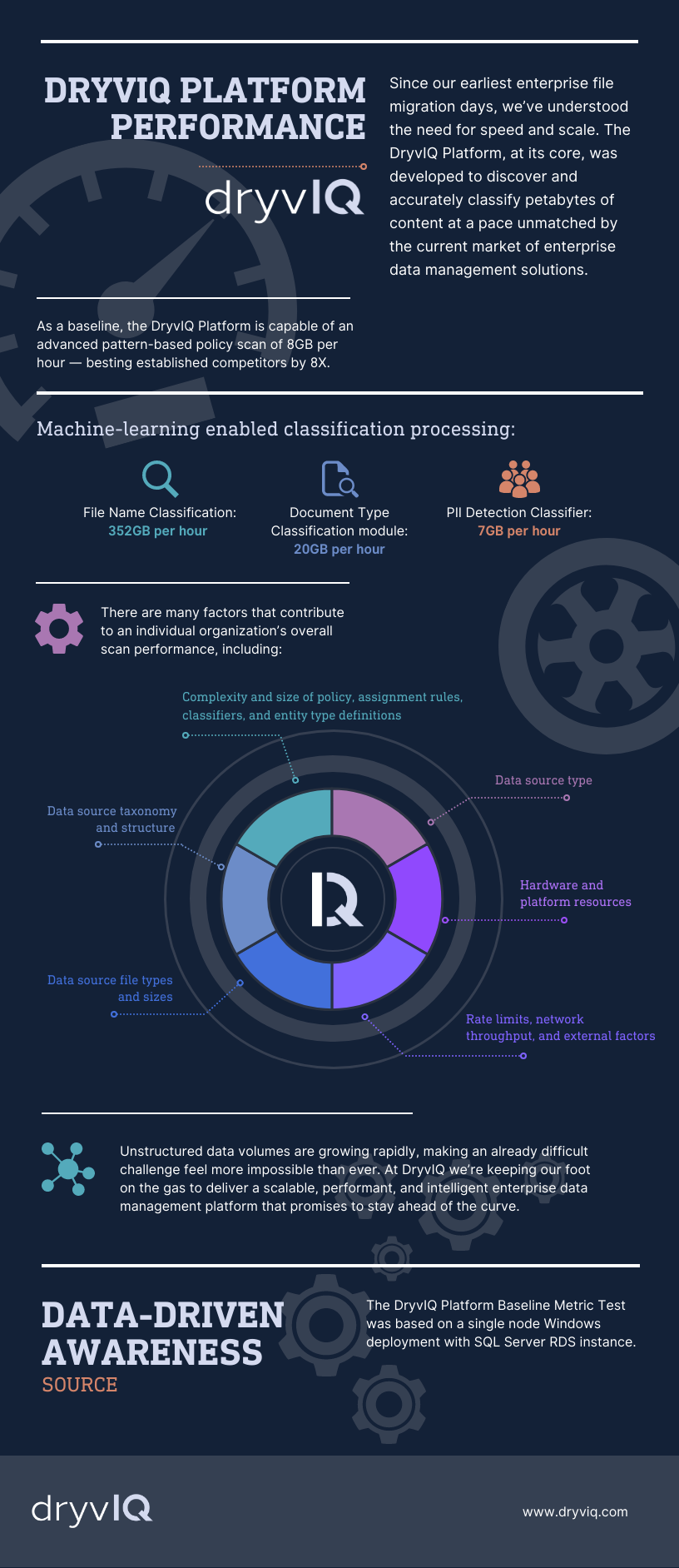 Machine-learning enabled classification processing:
File Name Classification: 352GB per hour 

Document Type Classification module: 20GB per hour

PII Detection Classifier: 7GB per hour
There are many factors that contribute to an individual organization's overall scan performance, including:
Complexity and size of policy, assignment rules, classifiers, and entity type definitions
Data source type
Hardware and platform resources
Rate limits, network throughput, and external factors
Data source file types and sizes
Data source taxonomy and structure
Unstructured data volumes are growing rapidly, making an already difficult challenge feel more impossible than ever. At DryvIQ we're keeping our foot on the gas to deliver a scalable, performant, and intelligent enterprise data management platform that promises to stay ahead of the curve.
Source:
The DryvIQ Platform Baseline Metric Test was based on a single node Windows deployment with SQL Server RDS instance.

DryvIQ
Related Posts
Discover what DryvIQ can do for your business
Book a call with our team to discuss how enterprise content integration can empower your business and workforce.