03.23.2020
Prepare For a Seamless Migration
As organizations consider migrating content to cloud sharing services, it is important to understand that there are many business and technical considerations that can affect the quality and the duration of the migration. With experience completing incredibly complex file migrations for some of the world's largest enterprises, our team has discovered some of the best practices that organizations of any size should employ for a successful project. Utilize this cloud migration checklist below to ensure you don't skip a step when planning your move to the cloud.
To learn more migration planning best practices, read our Intentional Migration: 7 Best Practices for a Successful Enterprise File Migration. In this whitepaper, we'll dive into each of these seven steps to success.
Cloud Migration Checklist
Infographic
Migrations are most effective when customized for an organization's particular needs, expectations, and limitations. So by planning ahead for these cloud migration best practices, many common migration issues can be simply avoided.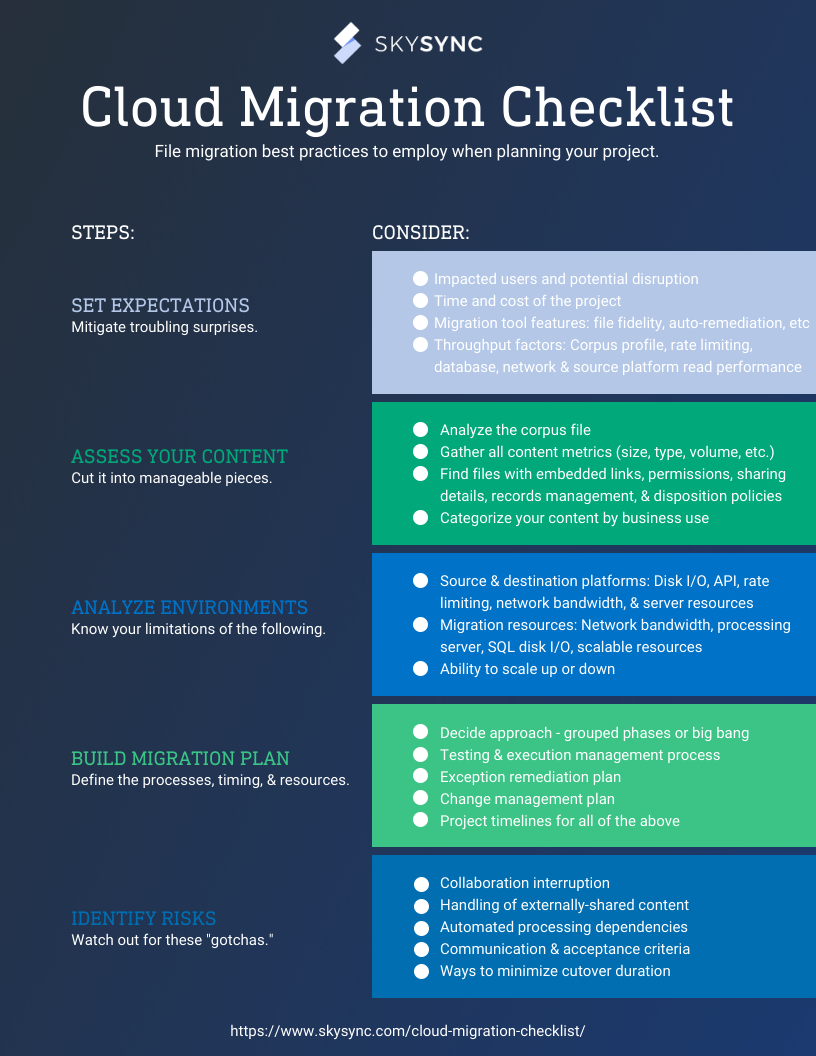 Share this Image On Your Site
Cloud Migration Checklist Basic Steps:
Set Expectations: What do you realistically best expect from your content migration when all is said and done?
Assess Your Content: Data assessment can feel overwhelming, usually because there's so much of it. But this too can be separated into more manageable pieces.
Analyze Environments: Knowing the limitations within your business's IT environment is essential when planning your migration.
Build the Migration Plan: The migration plan defines all of the processes, timing, resources, and resource configuration necessary to execute the migration.
Identify Risks: Watch out for these "gotchas" when planning a migration.
Want to learn more about cloud migration best practices?
Migration Tips & Tricks: Continuous Copy: Minimizing end-user distrust and frustration with migration and synchronization initiatives is a primary goal of DryvIQ.
Migration Tips & Tricks: Analyzer: How can DryvIQ directly accelerate my migration project and ease my change management processes all at the same time?
Intelligent enterprise file migration—at scale: Rapid file migration across cloud and on-premises platforms—with no business disruption.

DryvIQ
Related Posts
Discover what DryvIQ can do for your business
Book a call with our team to discuss how enterprise content integration can empower your business and workforce.