08.17.2020
Cloud Budgets Within the AEC Industry
Collaboration and cloud technologies have proven to be quite successful for organizations in the AEC (Architecture, Engineering, & Construction) industry. Cloud services and collaboration benefit construction companies by better connecting those in the field with those in the office, and even with outside contractors. For just some examples, cloud-based collaboration streamlines ease of document access, content control, increases communication, and minimizes content silos. With the plethora of benefits, it might be hard to believe that the AEC industry spends very little on its information technology and cloud budgets. But those that haven't invested yet could be holding themselves back.
AEC Industry Technology Budget Example
An analysis of data collected for Deloitte's 2016–2017 Global CIO Survey shows that technology spending as a percentage of revenue ranges is less than 2% in the AEC sector. To compare, the overall average among all industries is 3.28%.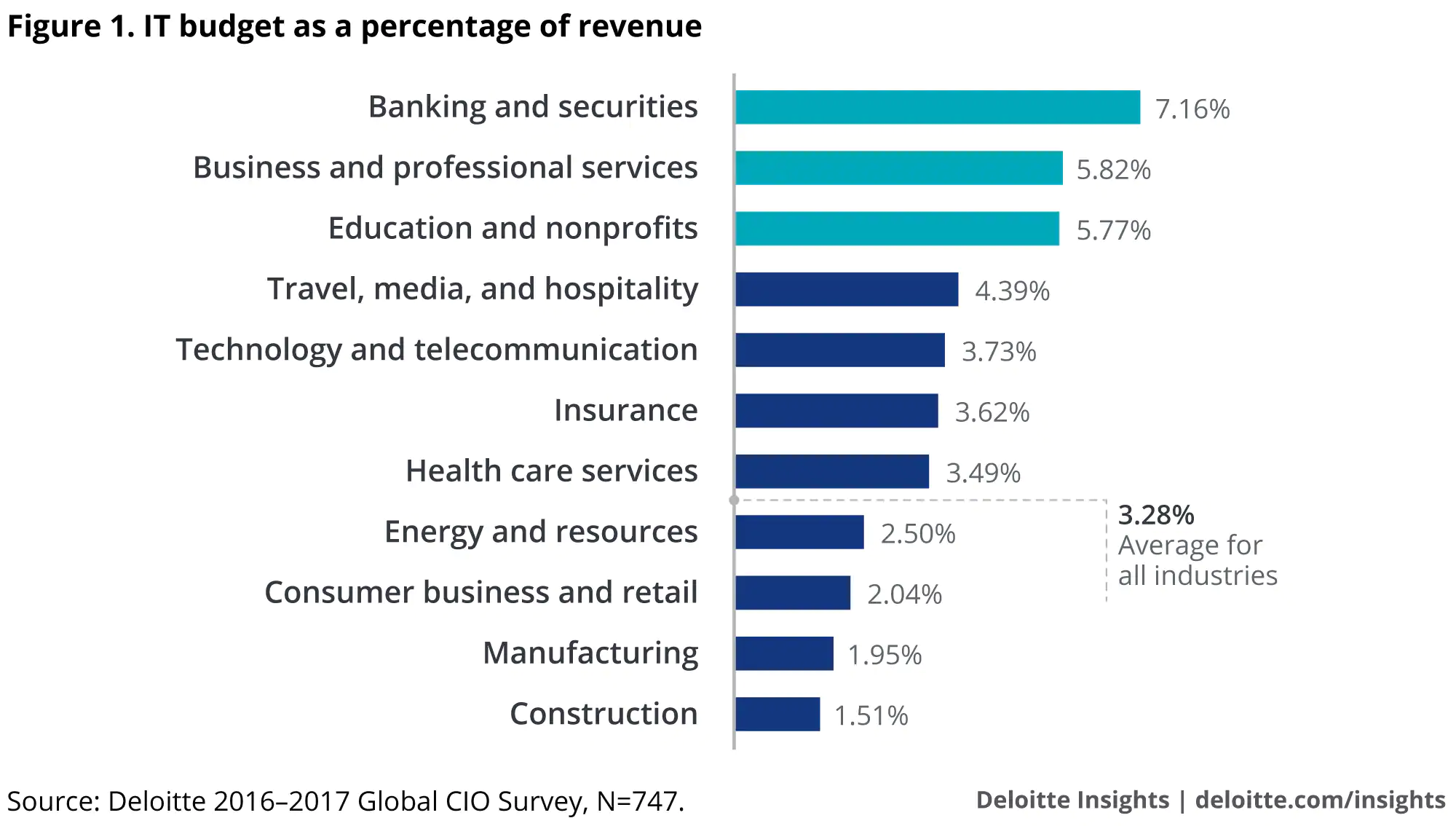 Cost Estimation and Budgeting in Project Management
Expecting the unexpected in the AEC industry is well, expected. Construction organizations must keep their budgets flexible, as oftentimes the cost of materials continuously changes. In the wake of the COVID-19 pandemic, for example, AEC companies have had difficultly estimating the costs of some materials. Some materials' prices have lowered due to the global economic recession, while others have increased as they've become scarce amid company and government shutdowns.
How Do You Create an AEC Industry Cloud Budget?
Construction companies can leverage the cloud to relieve the stresses that come along with budgeting for IT. With flexible cloud and content services, AEC organizations can scale their content landscape as needed. By creating a more targeted IT budget, construction and engineering firms can afford to budget more fluidly where they're more unstable.
What Is the Purpose of BIM Within the AEC Space?
Building Information Modeling (BIM) has had a major impact on the AEC industry as a standard in project and model designing. In a nutshell, a BIM file contains data that is accessed and collaborated on by separate parties. When companies leverage BIM for communication and collaboration, they consequently save time and money.
Integrate Construction Management With Any Other Content Platform
Dryv offers connectors for Procore and Autodesk BIM 360 Docs, enabling the integration of building information modeling and construction management platforms with any of the other supported content systems.
With these integrations, AEC firms can synchronize their internal Autodesk BIM 360 or Procore instance with external tenants as well as other common platforms used in the industry, including Box, Dropbox, Egnyte, Google Drive, SharePoint, and others. Maintain ownership and possession of project data, no matter where it resides – and with no impact on security or operations.
Stay Connected Across Disparate Platforms & Remote Job Sites
Large scale building projects often require continuous, complex coordination between internal and external collaborators. This means enormous challenges for AEC organizations managing multiple projects and job sites.
With Dryv, AEC firms can synchronize or migrate content across disparate cloud and on-premises platforms, or between various geographic locations. Ensure the right documents make it into the right hands exactly when they're needed – so you can deliver projects on time and on budget.
AEC Firm Cloud Migration With Small IT Budget Example
American Steel Company Lacking Time & Resources Smoothly Migrates to OneDrive
Despite having a small IT team and a short window of time, this steel manufacturer managed to successfully migrate to OneDrive for Business. The company needed to migrate 15TB to OneDrive for Business to save on costs from their current cloud storage provider- and fast. Their present storage renewal was just months away, giving them only about three months to complete the project.
The 15TB of content they needed to migrate in the timeframe allotted was an issue in itself. This meant they needed a migration tool that could move it all in time. In addition, like many of those in the AEC industry, they only had a small IT staff to work with. Unfortunately, they didn't have the time or resources to complete the cloud migration on their own.
The company's infrastructure manager researched cloud migration tools and found Dryv. In the end, it was DryvIQ's services and flexibility won over the IT Infrastructure Manager. Additionally, DryvIQ could fully manage the project for the company's limited IT team. The company had such difficulty finding a proper solution that they had even considered staying on the previous platform. However, once they had the right solution in hand, the migration to OneDrive for Business went without a hitch.

DryvIQ
Related Posts
Discover what DryvIQ can do for your business
Book a call with our team to discuss how enterprise content integration can empower your business and workforce.