---
DryvIQ has joined the F5 Technology Alliance Program, providing an unprecedented solution to redact, anonymize, encrypt, and protect sensitive data across any system. DryvIQ and F5's joint solution offers a simply-deployed agnostic platform for data discovery, governance, and protection.
Data Growth and the Need for Protection
175 Zettabytes of data will be created by 2025 and the majority of organizations are not confident they have the necessary means to detect and prevent the loss of sensitive data. Furthermore, 80-90% of enterprise data is now unstructured, leading to additional data management complexity as unstructured data exists across a variety of on-premises and cloud platforms. Within this mountain of data lies unrealized risk and vulnerabilities that can negatively impact a brand's reputation, financial performance, legal standing, and customers. Managing the ever-growing risk of exposed sensitive data is quickly becoming a top focus for the c-suite, boardroom, regulators, and beyond.
DryvIQ + F5 | A Better "Inline" Solution
By leveraging DryvIQ's Artificial Intelligence -based discovery and classification modules, F5's BIG-IP, NGINX App Protect, and other F5 portfolio products can detect and redact sensitive information such as PII, PHI, and PCI related data without the need for platform APIs, connectors, or agents. Integrated at the network transit layer with real-time decryption and encryption, data remains secure in transit, and sensitive data is redacted, encrypted, or replaced once at rest.  
With native AI-driven data protection built into the F5 products, legacy solutions such as DLPs are not as relevant or effective as they once were. DLPs and other edge-focused solutions require manual labeling, extensive configuration, and ongoing support that generally provides moderately acceptable usage and effectiveness. The DryvIQ and F5 solution is a scalpel when most current solutions offer a machete!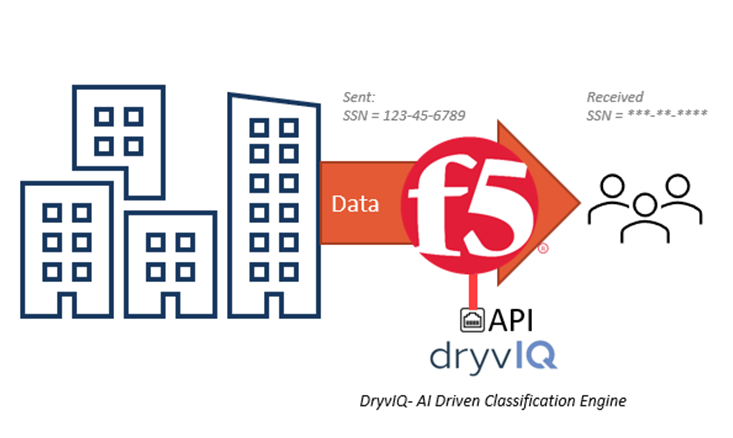 KEY FEATURES & BENEFITS 
Universal, Agnostic Platform

 

Pre-Configured Policy Packs for PII, CCPA/CPRA, GLBA/Financial, and Sensitive IT Data

 

Pre-Trained Artificial Intelligence Models

 

Machine Learning Calibration and Training Module

 

Custom Data Entity Types

 

Automated Actions via DryvIQ's policy engine

 

Text and Image Processing and Redaction

 

No Coding Necessary