06.21.2022
DryvIQ Sensitive Data Insights
Few risks in business are so overwhelming that they cannot be mitigated – or avoided entirely – if you see them coming. Unfortunately, the truly insidious threats are the unknown ones operating outside of your ability to plan. Fortunately, advanced data management platforms and developments in artificial intelligence (AI) and machine learning (ML) mean that organizations can finally shine a light on unstructured data and eliminate as many unknowns as possible during the discovery process. Gain visibility into your data source inventory to understand and act on your organizational content, including size, file distribution, relevance, sensitivity, risk, and exposure.​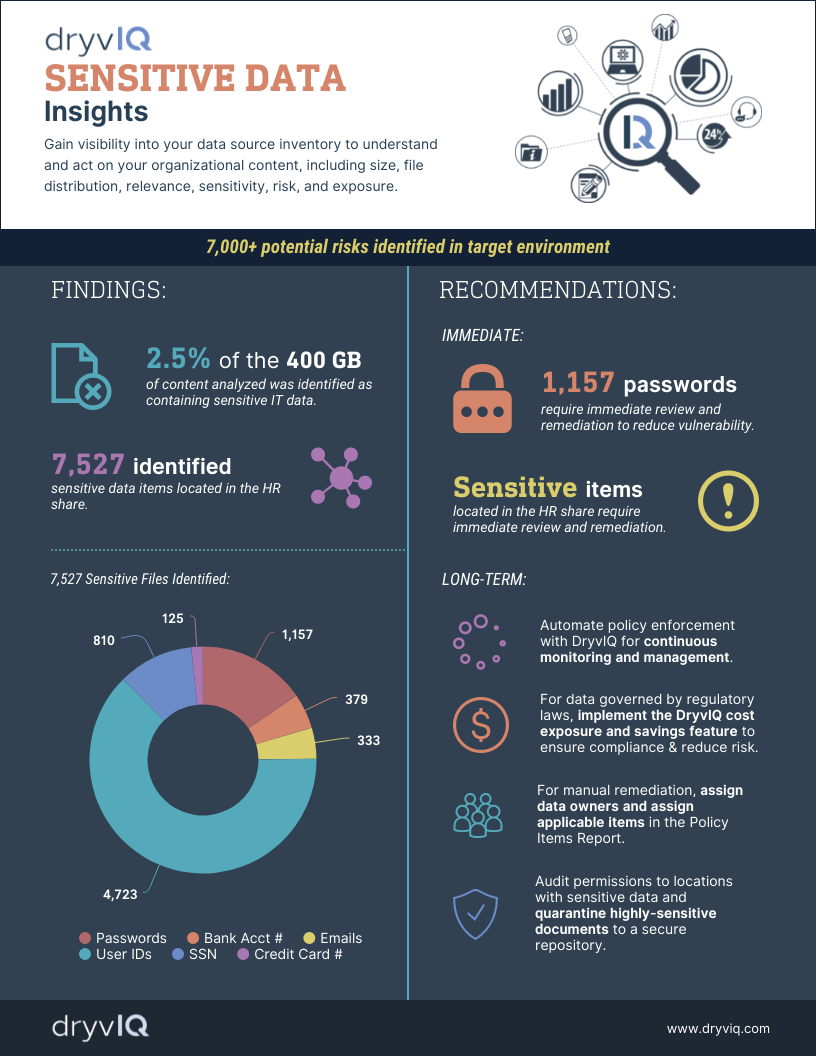 Overall, there were over 7,000 potential risks identified in the target environment.
Findings:
2.5%

of the

400 GB of content analyzed was identified as containing sensitive IT data.​

7,527

identified sensitive data items located in the HR share.
Recommendations:
Immediate recommendations:
1,157

passwords require immediate review and remediation to reduce vulnerability.

Sensitive

items located in the HR share require immediate review and remediation.
Long-Term Recommendations:
Automate policy enforcement with DryvIQ for

continuous monitoring and management

.​

For data governed by regulatory laws,

implement the DryvIQ cost exposure and savings feature

to ensure compliance & reduce risk.

For manual remediation,

assign data owners and assign applicable items

in the Policy Items Report.

Audit permissions to locations with sensitive data and

quarantine highly-sensitive documents

to a secure repository.
Audit & remediate your existing file sensitivity labels
Validating the accuracy of labels while identifying unlabeled files has historically been a manually intensive process. There are many reasons that users may not have applied the correct sensitivity label to files resulting in unknown corporate risk. Even automated labeling solutions should be periodically "audited" to ensure labeling accuracy, check for dated data, or even back file data that may be missing labels.
DryvIQ enables organizations to validate the accuracy of sensitivity labels while identifying unlabeled files — and automatically applying accurate labels utilizing artificial intelligence driven classification and sensitivity discovery.

DryvIQ
Related Posts
Discover what DryvIQ can do for your business
Book a call with our team to discuss how enterprise content integration can empower your business and workforce.